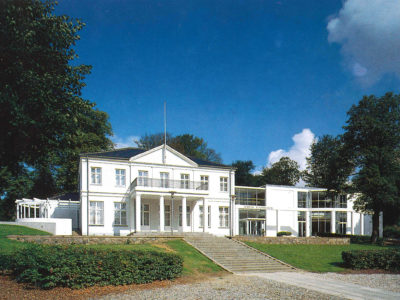 Where to find us
Carolinelundsvej 2
8700 Horsens
+45 76 29 23 70
kunstmuseum@horsens.dk
Opening hours
 (September 1 – June 30)
Monday Closed
Tuesday-Sunday 11 a.m. – 4 p.m.
(July 1 – August 31)
Monday-Sunday 10 a.m. – 4 p.m.
 Closed:
June 5
December 23, 24, 25, 26 and 31
January 1
May 1
Admission
Adults 50 DKK.
Children under the age of 18 Free
Groups of more than 10 persons 32 DKK. per. person
Before you visit us
Horsens Art Museum complies with the Danish authorities' Covid-19 guidelines.
Below you can find the information you need before and during your visit. By following these guidelines, you help us take care of each other and ensure a safe museum visit.
Corona passport 
Museum guests, aged 15 and up, must be able to present a corona passport to the staff at the entrance either by:
A negative covid-19 test that is max 72 hours old from the moment you were tested. The documentation for either a negative antigen test or a negative PCR test must include name, test time and test result. In connection with the presentation of documentation for a negative test, guests from the age of 15 must present ID. It can be a driver's license, health card, passport or other publicly issued ID.
A positive covid-19 test performed at least 14 days and at most 12 weeks before the time of your visit to the museum.
A completed vaccination course for covid-19 (minimum 14 days since last bite).
Upon arrival, you must present the documentation either in print or as a screenshot on your mobile. Children up to and including 14 years of age do not need to present a negative test. Please note that we do not store any of this information.
IMPORTANT: Guests must save their entrance ticket, which is handed out at the counter, because it states the entry time.
Busses
The local bus lines number 1 and 2 stop at Sundvej near the museum.
Parking
It is possible to park at the museum.
Access for walking-impaired persons
The museum is fully accessible for walking-impaired persons and wheelchair users.
It is possible to loan folding chairs at the museum.
Guided tours
It is possible to book a guided tour for the price of 500 DKK on weekdays and 600 DKK on Saturdays and Sundays. Admission is not included in the price.
A guided tour has a duration of approximately 45 minutes unless otherwise agreed.
Guided tours can be booked through telephone + 45 76 29 23 70 or e-mail avd@horsens.dk
Please book guided tours 14 days in advance.