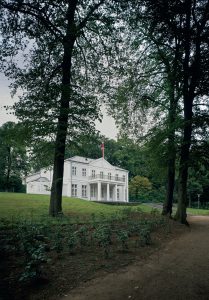 40th anniversary at Horsens Art Museum
1984 – 2024 Horsens Art Museum's 40th anniversary
On 17 November 1984, Horsens Art Museum opened in its current form in Pavillon Lunden. A restaurant pavilion that was restored to house Horsens Museum's art department's art collection. What no one had imagined at the time, it became the beginning of 40 years of concentrated effort, centered on creating a collection of experimental contemporary art and giving artists the opportunity to present their works in a museum context early in their artistic career.
The space in the old pavilion quickly became too tight, but it has been possible to increase the museum's area with additions in 1992, 2006 and most recently in 2017, so that it has been possible to continuously present both the growing collection, but also special exhibitions based on the collection.
40 years seen in relation to the entire history of the Danish museum system is not a long time, but 40 years as an art museum for experimental contemporary art in a provincial town like Horsens is a history that Horsens Art Museum believes is relevant to celebrate. That is why the museum invites throughout the year to a large number of collection hangings and activities that will, in their own way, help to mark and celebrate the museum's big anniversary.
The entire exhibition year 2024 at Horsens Art Museum will be used to mark 40 years at Horsens Art Museum.
The exhibition program is kindly supported by Insero Horsens and Familien Hede Nielsens Fond.
Further information will follow continuously and for further information contact curator Julie Horne Møller: jhmo@horsens.dk