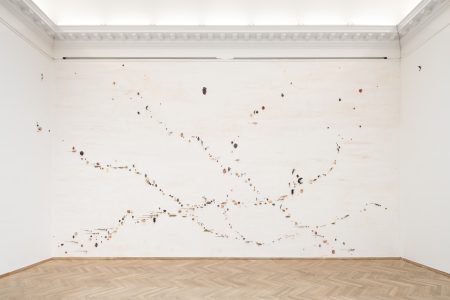 Breathes lives (det der ånder lever) by Ida Raselli
Exhibition period Saturday 3 February – Sunday 7 April 2024
Breathes lives (det der ånder lever) is a solo exhibition by Ida Raselli at Horsens Art Museum. In Ida Raselli's practice, she searches the country's forests, ditch edges, marl pits, open slopes, limestone quarries and beaches in her collection of wild clay, stones, branches, seaweed and flowers. The collected materials undergo subsequent processing drying or burning, through which she generates a material bank of carefully selected pieces of nature.
She works in relation to her own and nature's cycle when she collects, processes and installs. She follows the changing of the seasons and the body's signals and is receptive to the disturbances of the outside world, which also form part of her practice as material. The final work in the exhibition stands as the sum of these processes, a reflection of a practice of permeability.
Photo: David Stjernholm
Further information about the exhibition follows and it is possible to contact curator Julie Horne Møller jhmo@horsens.dk.