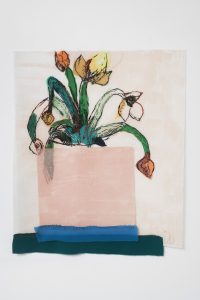 Horsens Art Museum presents a special exhibition with Sarah Becker in the autumn of 2023. The exhibition shows a large number of embroidered works created in the period from spring 2021 to summer 2023.
The motifs revolve around the immediate world. The use of the timeless still lifes and settings creates a connection to the symbolism of classical painting. The stage is home. The world right around Sarah Becker. She draws with the thread, paints on the fabric.
Sarah Becker graduated from the Art Academy's Design School in 2003 and then chose the needle, embroidery and the poetics of fabric and thread as her primary form of expression. As a painter, the works are created standing, her embroideries are sensuous and tactile and vary in size and motif.
Embroidery – the craft – is often seen as adorable and decorative, but it can do much more than that. The experimental embroidery breaks the bounds of our traditional perception of what a work of art is.
The exhibition opens at Horsens Art Museum on Saturday 7 October at 11.00 – 16.00. Everyone is welcome.