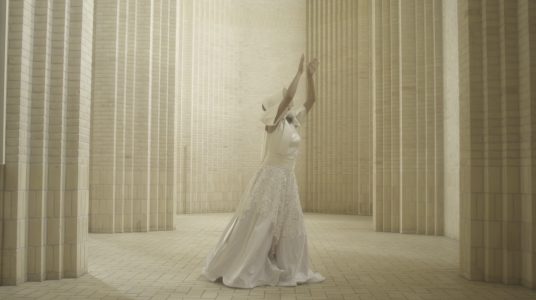 Lilibeth Cuenca Rasmussen. From where we stand
Saturday September 21 – Sunday, January 19, 2020
With the exhibition, Lilibeth Cuenca Rasmussen debates a number of open questions about national identity. The exhibition consists of a large number of newly produced works which in each way point on and illustrate the subject of national identity.
Lilibeth Cuenca Rasmussens Praxis is based on performance art, also transformed to different materials and medias as video, photography, sculpture and installations. Her productions involve the body, scripted text, songs; composed music as well as intricate visual elements as intricate visual elements as costumes used as set design. She gathers, adapts, and universalizes her narratives in both a critical and humorous approach in regards to issues such as identity, culture, religion, gender and social relations. Read more about the exhibition here.
The exhibition is kindly supported by: 
Genforeningspuljen 2020, Legacy Aarhus 2017, Region Midt, Statens Kunstfond og Det Obelske Familiefond, Familien Hede Nielsens Fond, Beckett Fonden, Statens Kunstfond, Augustinus Fonden, Insero Horsens og Grosserer L. F. Foghts Fond and Dan Sukker.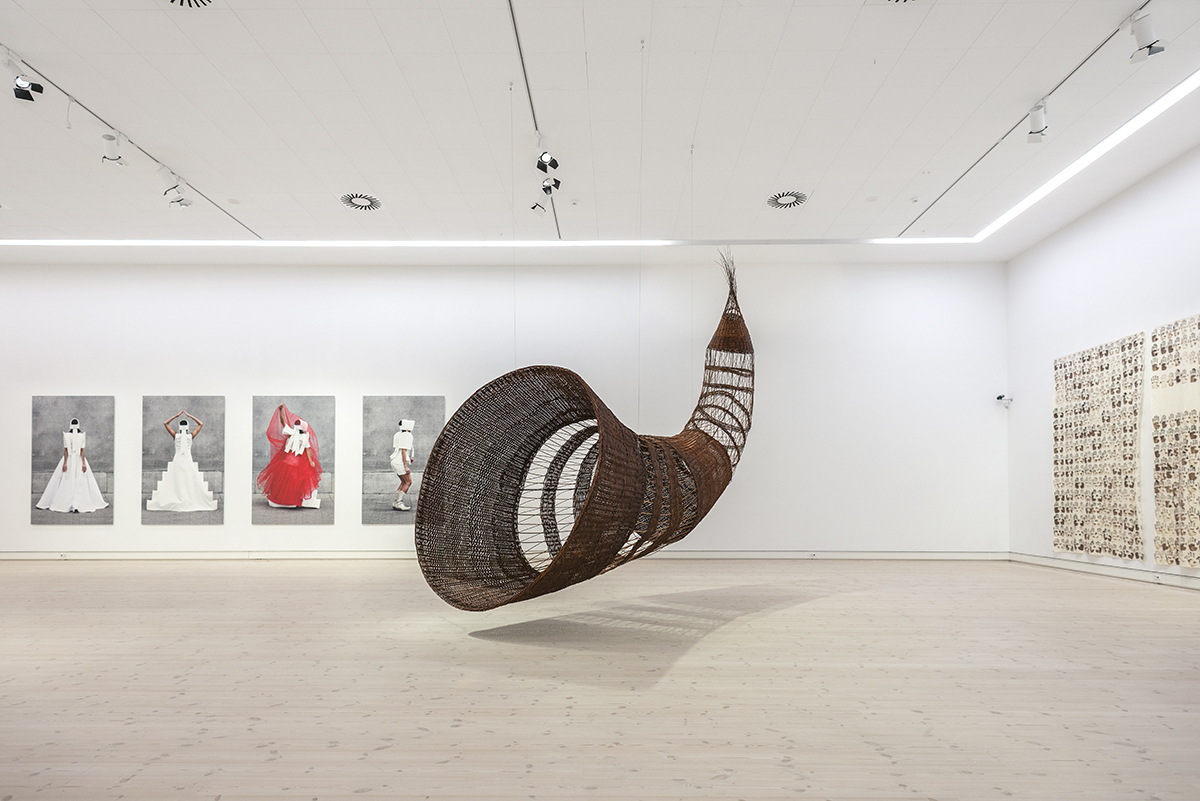 Lilibeth Cuenca Rasmussen. From where we stand. Picture by Jacob Friis-Holm Nielsen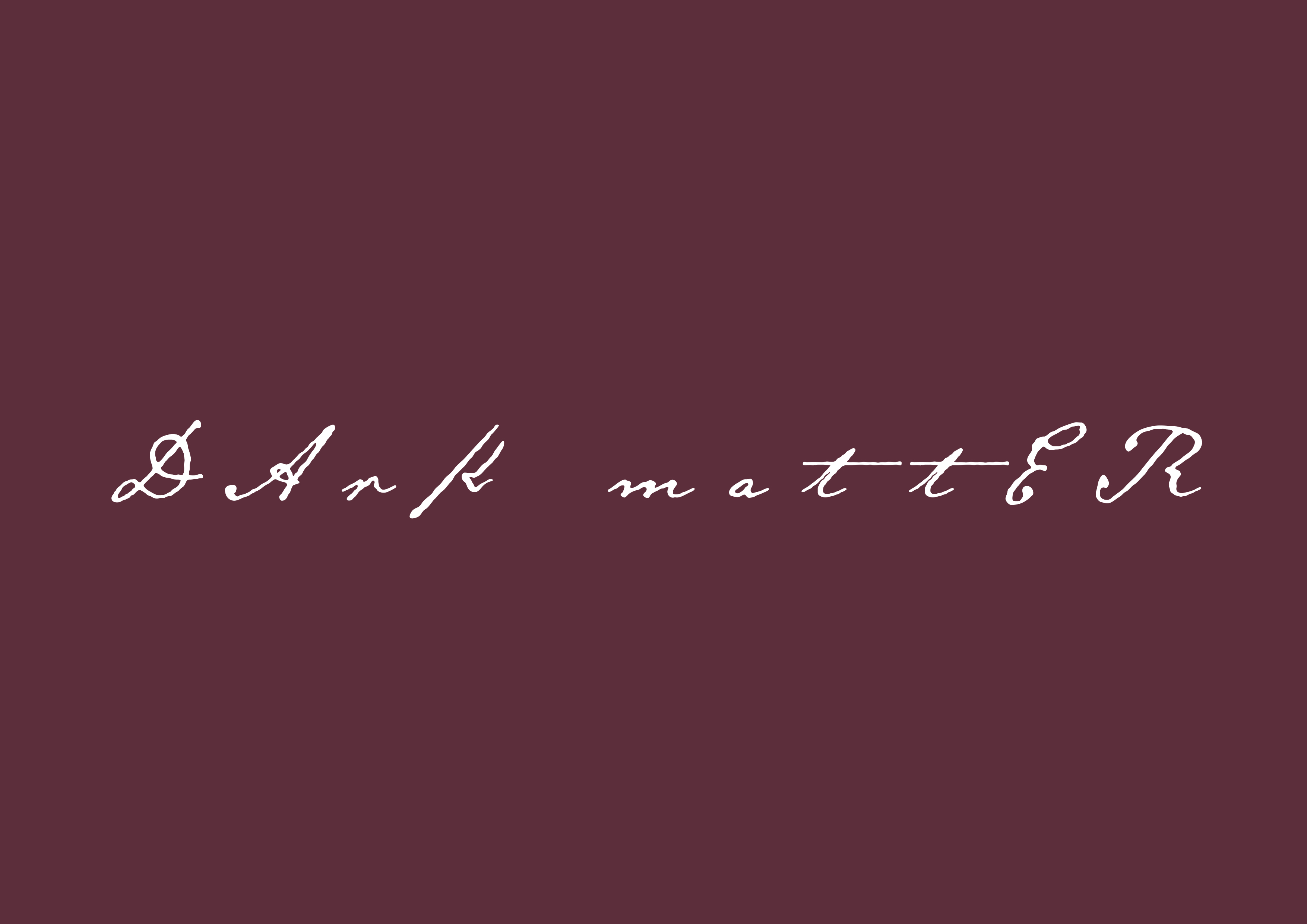 DARK MATTER
By Nikoline Liv Andersen & Cathrine Raben Davidsen 
November 9, 2019 through March 8, 2020
Horsens Art Museum presents 'DARK MATTER' created by  Cathrine Raben Davidsen and Nikoline Liv Andersen. Back in the fall of 2018, the two artists worked side by side at Statens Workshops in Copenhagen, where they worked on the dialogue project, which is based on nature and its significance for our existence. Both artists are well represented in the collections of Horsens Kunstmuseum and the exhibition in autumn 2019 will be the two artists' first joint project.
Background: Cathrine Raben Davidsen was born in 1972 in Copenhagen. She graduated from the Royal Danish Academy of Fine Arts and has also studied at academies in the Netherlands and Italy, as well as read theology at the University of Copenhagen. In Cathrine Raben Davidsen's art, mythologies, traditions and tales are explored, drawing threads to the great masters of art history, as well as the existential and philosophical thinking of our time. She lives and works in Copenhagen.
Background: Nikoline Liv Andersen was born in 1979 in Copenhagen. She is a trained Clothing Designer from the Danish School of Design and has during her education been practicing with both Christian Dior and John Galliano. Since 2015 she has worked for the Italian fashion house Fendi. Alongside this, Nikoline Liv Andersen continues to work on his works that are at the crossroads between art and design.
Read more here.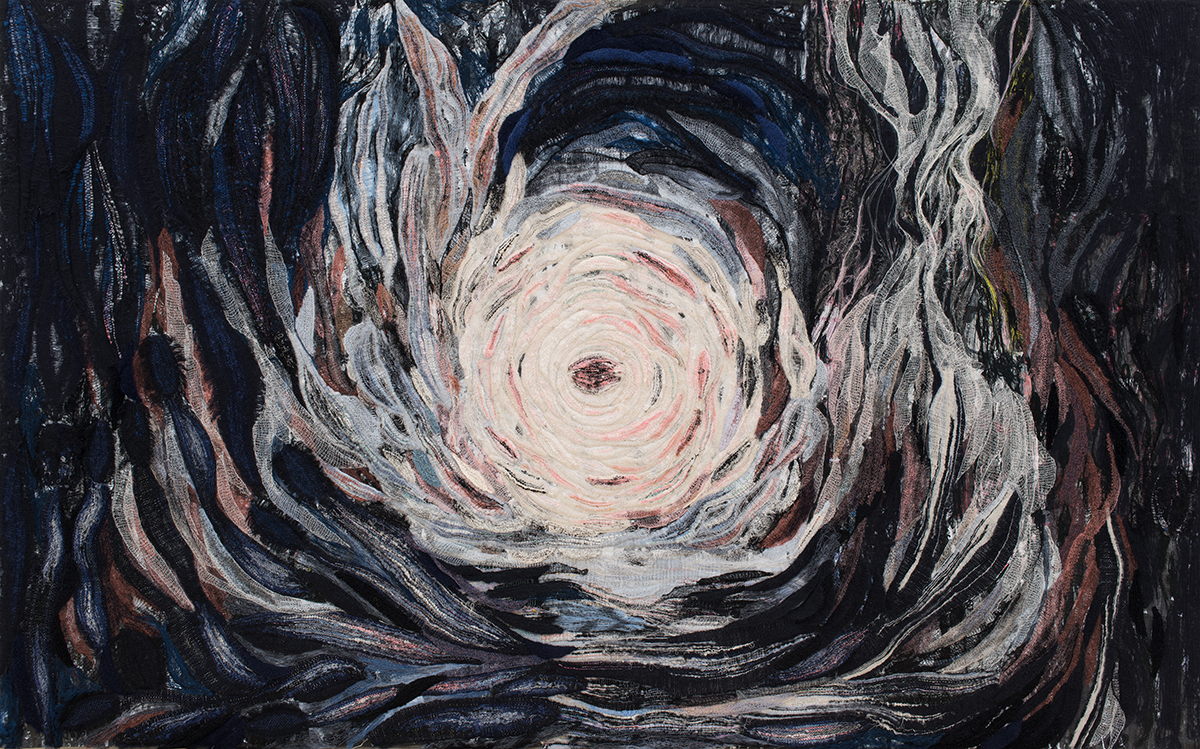 Nikoline Liv Andersen. Photo by: Jacob Friis-Holm Nielsen 
Imod Arkimedes, 1988. Oil, metal, plastic boxes on canvas. 200,0 x 163,0 cm. Bought 19/03-1988
Erik A. Frandsen – in the collection
Erik A. Frandsen was born in Randers in 1957 and played a leading role in the artistic breakthrough in Denmark in the years 1981 – 83. Today we associate Erik A. Frandsen as one of Denmark's most acknowledged artists who's oeuvre is highly multifacetted.
The works of Erik A. Frandsen is to be found on many Danish muse- ums as well as in public spaces and private collections.
Through the years he has played, and still plays, a great and signifi- cant role in the history of Horsens Art Museum. Frandsen was among the first artists to exhibit at Horsens Art Museum after the museum was established as an independant museum; first in a joint group exhibition, 'Ler-etuder II' in 1985 and then in the solo exhibition 'Re- trograd Amnesi/Ingen vej tilbage' in 1986. Since then a large handful of solo – and group exhibitions has followed.
With more than 300 works, Frandsen occupies a significant place in the Horsens Art Museum's collection, where we can follow his artistic development from the the early 1980s to the present day.
From 1976 -79 Erik A. Frandsen studied ceramics in Greece, sculpture in Carrera, Italy, and worked with graphics in France. When he mo- ved back to Denmark in 1981 he co-founded the artistic community 'Værkstedet Værst'. As a part of 'De Unge Vilde' (The Wild Young)in the beginning of the 1980's, Frandsen was taking part in pushing the boundaries for the formal expression of art as well as the use of materials, particularly focussing on paintings. As an artist he has explored numerous mediums through his artistic career in an end- less search for new opportunities. The exploration of various artistic mediums spands widely from painting and photography to graphics, sculpture, installation, mosaics, neon and steel reliefs. The artist's wide use of different mediums bears witness to a constant urge to explore new possibilities, and the content of the motive tells a similar story. Incorporating an artist like Erik A. Frandsen can be difficult but the collection at Horsens Art Museum can help put an insight into the artist's many-facetted universe.
Read more about the exhibition here.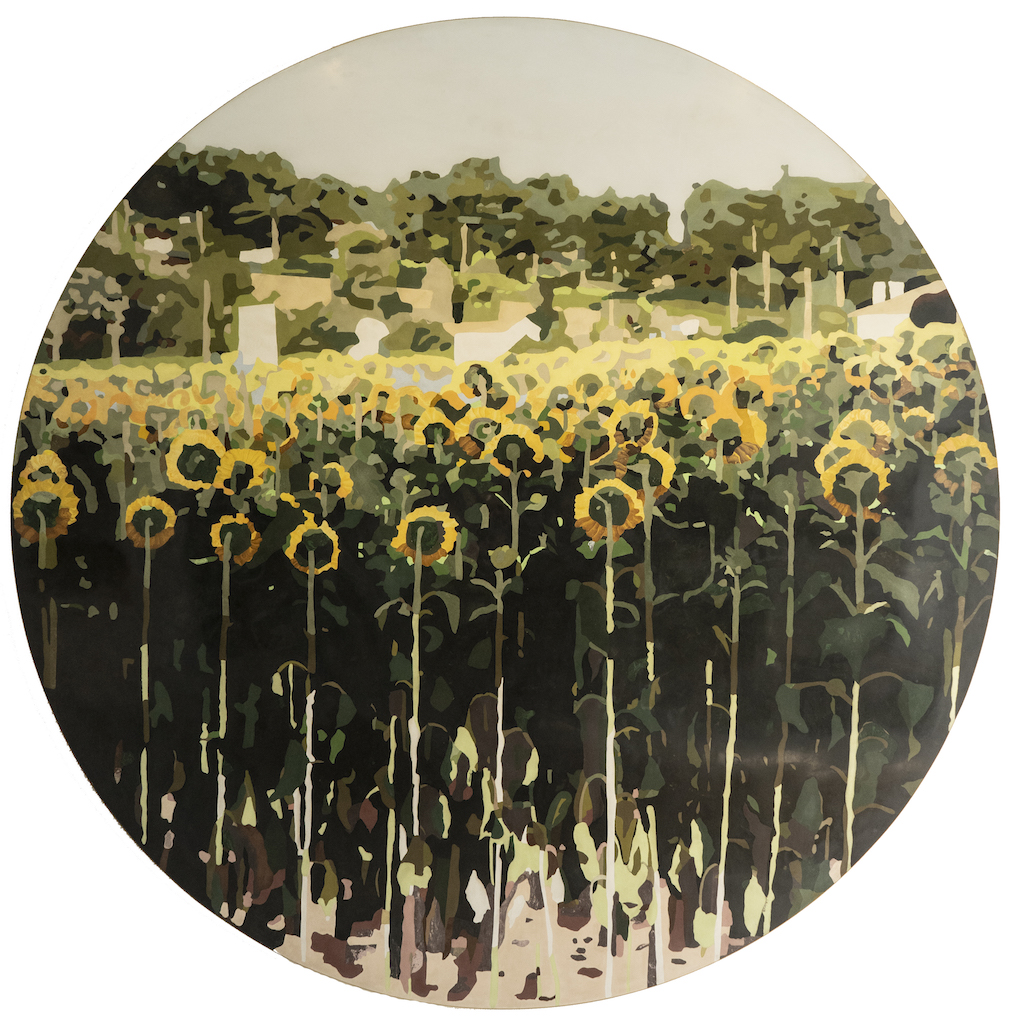 Arles- mon amour – no pasaran 2, 2015
Scagliola. Diameter 250 cm
Gift 20/08-2018 from Inge og Asker Larsens fond til støtte af almennyttige formål