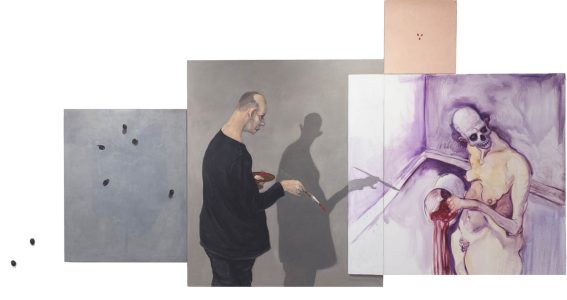 Michael Kvium (collection)
The museum's large collection of Michael Kvium is presented in new surroundings and with works that have been in storage for a longer period.
Michael Kvium (born 1955) has, over the past 30 years or so, established himself as one of Denmark's most significant visual artists. In his figurative and narrative visual universe, he delves into the corners of our culture and stages the gloomy and macabre, the moral and physical decay. He takes his starting point in the current world we live in and in the dark sides of our existence. The depiction is uncompromising and is often experienced by the viewer as both fascinating and repulsive.
Michael Kvium was born and raised in Horsens, where he worked as a cartoonist for Horsens Folkeblad from 1973 to 1979. He subsequently studied at the Royal Danish Academy of Fine Arts in Copenhagen from 1979 to 1985.
Horsens Art Museum has followed and supported Michael Kvium's artistic career since his breakthrough in the mid-1980s. Today, the museum has the country's largest collection of Kvium's works, spanning painting, drawing, graphics, and sculpture created from 1985 to 2014. The collection traces Michael Kvium's artistic development from the everyday scenes of the 1980s to the more mature and nuanced visual universe of the present.
Read more about Michael Kvium and three selected works from the collection here.