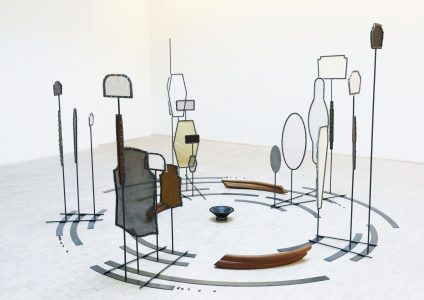 The Shape of Us by Mille Kalsmose
November 3 2018 – January 20 2019
One of Mille Kalsmose's signature themes is personal identity and the connection between the self and others, in particular the relationship we have to our family. This is also the fundament in the exhibition The Shape of Us. Through different materials and objects, the artist examines our relationship to others, the creation of identity and materiality. In Mille Kalsmose's installations object and individual are not opposites, but connected.
Mille Kalsmose (b. 1972) exhibited at Horsens Art Museum back in 2013-2014 with the exhibition Searching for a Mother. The exhibition reflected upon human relations with a main focus on the relationship to ones mother. She works in both Copenhagen and New York and often creates installations and sculptures made of iron, combined with organic materials and found objects.
In connection with the exhibition, Mille Kalsmose will create a site specific installation at KUBEN in Horsens. The project is supported by MÆRK BYEN Horsens, Beckett-Fonden, Champion Iron and Statens Værksteder for Kunst (SVFK)
The exhibition is generously supported by: MÆRK BYEN, Beckett-Fonden, Champion Iron Statens Kunstfond, Brdr. Funder Stukkatører and Statens Værksteder for Kunst (SVFK).