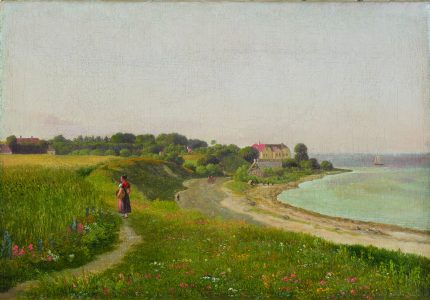 The Golden Age seen in a new light
December 21-2022 – April 10. 2023
Horsens Art Museum is currently presenting a new collection display that focuses on reinterpreting the Golden Age through the museum's collection of experimental contemporary art. Old and new art are exhibited together in unexpected juxtapositions, aiming to highlight new ways of experiencing art and, above all, new interpretations of the artworks.
The Danish Golden Age is known for reflecting the era's idealized Danish folk culture. Motifs featuring open landscapes and beautiful skies were greatly admired by the upper and middle classes in the country's cities. In retrospect, it was seen as a happy time. However, the period was also marked by chaos and societal tensions. Despite these historical crises that shaped Denmark, there emerged a political engagement, hoping to create a romantic national identity. People turned away from the crisis-ridden Denmark and attempted to create a romanticized version of the country.
Contemporary crises is present again in our tine, Denmark is once again marked by crises, most recently with the COVID-19 pandemic and now with inflation and the ongoing energy crisis. Undoubtedly, all of this will leave its mark on contemporary art and influence our visual world. Therefore, we have chosen to connect the beautiful works of the Golden Age with more recent contemporary art, aiming to create juxtapositions that span across time. In this new exhibition of Golden Age works and contemporary art, we have divided the exhibition into different themes selected from motifs in the Golden Age works. These include landscapes, portraits, family scenes, interior scenes, and motifs of love. The themes are presented as an interplay between works from the Golden Age and works from the present, thus showcasing both landscape motifs from the 19th century and contemporary landscape paintings.
In the exhibition, visitors can experience works by Danish Golden Age painters such as P.C. Skovgaard, C.W. Eckersberg, Jørgen Roed, Dankvart Dreyer, J. Th. Lundbye, Johan Thomas Lundbye, Jørgen V. Sonne, Christen Dalsgaard, Constantin Hansen, and Vilhelm Kyhn, juxtaposed with contemporary artists such as Anders Kirkegaard, Cathrine Raben Davidsen, Anne Marie Ploug, Augusta Atla, Tina Maria Kofoed, Kirsten Justesen, Lars Nørgård, and Morten Buch.