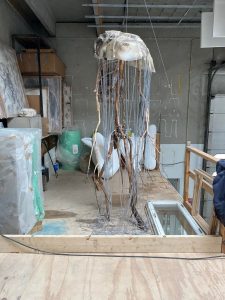 The exhibition Lower Lifeforms at Horsens Art Museum, will consist of drawings and sculptural and installation works, where unconventional materials such as oil, burnt plastic, e-waste and microbes mix with more traditional materials such as bronze, wood and plaster.
The title  Lower Lifeforms refers to man's hierarchical approach to nature's many life forms, and man's lack of empathy for organisms with which we can not identify, such as worms, snails, millipedes and other composting organisms.
Lower Lifeforms will be both a tribute to the so-called inferior life forms, and to materials that are often considered unclean and worthless. The exhibition will unfold as a fabled underworld of demonic creatures, anthropomorphic insects, enlarged aquatic organisms and biofuturistic cities inhabited by molds.
Although the exhibition's works will portray non-human beings and entities, Lower Lifeforms is very much about us humans, and the more or less sympathetic tendencies that characterize our species – and the time we live in.
The exhibition is established in three of the museum's large exhibition spaces and contains both earlier and newly produced works.
The exhibition is kindly supported by: Knud Højgaards Fond, 15. Juni Fonden, Augustinus Fonden, Familien Hede Nielsens Fond,  Statens Kunstfond and Insero Horsens.