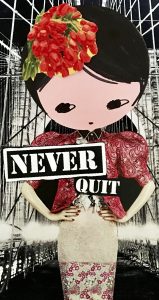 Phoebe New York at Horsens Art Museum
The exhibition opens August 21st. 2021
A small part of New York City is moving to Horsens for a while – in the form of an exhibition of Libby Schoettle's artworks. This Horsens' art exhibition will feature artist Libby Schoettle's alter ego character, "Phoebe New York."
The upcoming exhibition is presented inside the Horsens Art Museum, in the park, and in the city of Horsens.
The works for the exhibition range from drawings to collages that are made from found objects — that range from old book covers to early photographs and vintage magazines — to present-day Street Art.
The museum's exhibition presents the artistic journey that Libby Schoettle/ Phoebe New York has been on for the last 15 years. This journey began when an introverted artist first created her alter ego character, Phoebe New York. At first, the artist let her character express her own feelings about feeling lonely, misunderstood, and unloved as a person and an artist. Over time, however, Phoebe New York became increasingly extroverted and she began to speak out into the urban space and point at some of the world's injustices.
Whether in the form of drawings, collages, or Street Art, Phoebe makes us aware of the diversity of the world by making "small" statements – from the uplifting messages such as, "stay positive" and "be happy and cool"– to the more negative observations like "insane," chaos," and "fool" – to the empowering declarations such as, "dickhead."
All the way around the artistic practice
Horsens Art Museum's intention with the exhibition is to present the whole of Libby Schoettle's artistic practice, both inside the museum and outside where the existence of the Street Art is very fragile and impermanent. Curator Julie Horne Møller explains: "We want to give the viewer an overall understanding and opportunity to follow the whole narrative of an artistic process and practice. Here you will be able to follow the original collages from the exhibition rooms of the museum until they are scanned – blown up in size and set up in the urban space of the city. Just as you can follow the exhibition the other way around; from the street art pieces on the street to the exhibition at the museum where the original collages and photographs hang."
During the exhibition, Horsens Art Museum also shows a part of the docuseries about Phoebe New York that director Jyll Johnstone of Canobie Films is creating after filming Libby Schoettle and her art the past five years.
Libby Schoettle is an NYC artist originally from Bryn Mawr, Pennsylvania. She attended Gettysburg College, Philadelphia University and graduated with honors from Hunter College.
Horsens Art Museum has worked together with Libby Schoettle since 2019 to plan the exhibition.
The exhibition is generously supported by Insero Horsens, Familien Hede Nielsens Fond, Konsul George Jorck and Hustru Emma Jorck's Fond and MÆRK BYEN Horsens.

Photo: Phoebe New York