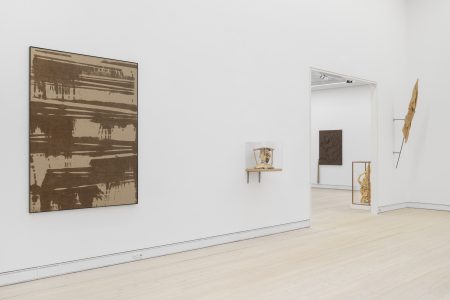 Last Light – Nick Theobald & Emil Westman Hertz
  – a dialogue at the Horsens Art Museum
February 25 th – august 13 th
Horsens art museum presents, a dialogue exhibition between the American artist Nick Theobald (1986) and the late Danish artist Emil Westman Hertz (1978 – 2016). The exhibition is based on the museum's large collection of works by Emil Westman Hertz, which Nick Theobald engages in dialogue with his own works created over the last ten years.
Emil Westman Hertz was on his way to become one of the biggest artists in Denmark, with his distinctive approach to creating sculpture. Emil Westman Hertz's death put an end to this enrichment of Danish art. Already in 2011, Horsens art museum acquired the first work, which was later followed by several works both in sculpture, drawing and graphic paperwork's in order to be able to present the artistic issues he worked with during his short artistic practice.
At Horsens Art Museum we are now presenting our extensive collection of Emil Westman Hertz, but not in the traditional way, but in a dialogue with the American artist Nick Theobald.
One of the central materials for Emil Westman Hertz's artistic practice was nature: beeswax, bear's claw and various other materials based on nature. We also find the bee wax in Nick Theobald work. This was a contributing factor to Horsens Art Museum's first acquisition of the young American artist in the summer of 2019. An acquisition that not only created an enrichment of the museum's collection, but also opened a new and exciting collaboration with an artist who in many respects works as Emil Westman Hertz.
Personal and artistic struggle
Emil Westman Hertz's artistic practice was distinctive and marked a struggle, both personally and artistically. The struggle was aesthetically and poetically expressed in works that were at once heavy and light on symbols. This balance is clearly seen through Emil Westman Hertz's practice, where the lightness of the sculptural elements is offset by the themes' almost eerie weighty presence. A struggle that is also experienced in Nick Theobald works, where the visual expression of the works, at first glance, seems light and almost poetic, while on a closer reading of the work, it becomes clear that this is also an artistic struggle, with focus on the surrounding world and the way we humans consume it.
The exhibition is based on the museum's large collection of Emil Westman Hertz. In connection with the exhibition, Nick Theobald creates a series of new works in materials such as beeswax, bronze, charcoal, and canvas. Some of the works are created site-specifically at Horsens Art Museum.
The exhibition is generous supported by:  Familien Hede Nielsens Fond, Grosserer L.F. Foghts Fond, Augustinus Fonden, Knud Højgaards Fond, Insero Horsens, Overretssagfører L. Zeuthens Mindelegat, 15. Juni Fonden, Beckett Fonden, Statens Kunstfond, Toyota Fonden, Francisco Costa and Michael Stipe.
Photo: Jacob Friis-Holm Nielsen  & Slava Mogutin