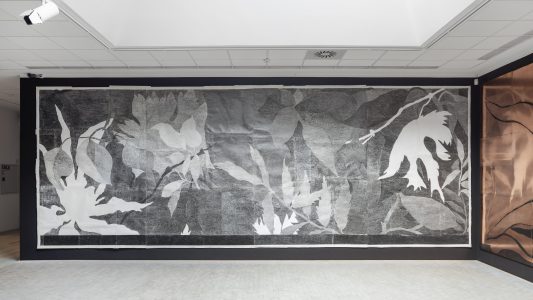 august 7 th 2022
With the exhibition MORI the artist Anne Marie Ploug shows a range of experimental graphical artworks. These artworks all capture the different tones and textures of the materials.
The fundament of the exhibition is Anne Marie Ploug's two main artworks, which both are 8 x 3 meters. Both artworks will be placed on each side towards a corner. One of the artworks is a combined paperwork, with a black/white drawing made out of charcoal and pencil. The second artwork is made up of copper plates with cold-needle etchings.
Anne Marie Ploug (1966) has for many years been a significant artist on the Danish art scene. She graduated from the Royal Danish Academy of Fine Arts in 1988 – 1995. She has exhibited at a large number of exhibitions both in Denmark and internationally. Among other things, she has exhibited several times at Horsens Art Museum. She is represented in Horsens Art Museum's collection, just as her works can also be found at, among others, Ny Carlsbergfonden, Statens Kunstfond, Skovgaard Museet and  Kaliningrad Museum. In 2019, she was awarded the Anne Marie  Carl-Nielsen Honorary Scholarship. She has been behind several decorations, most recently the decoration Mikro Makro at Aarhus University. She lives and works in Copenhagen.
The exhibition is supported by Statens Kunstfond, Insero Horsens and Familien Hede Nielsens Fond. 
Photo: Horsens Art Museum