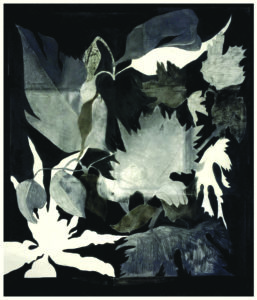 march 5 th – June 12 th
With the exhibition MORI the artist Anne Marie Ploug shows a range of experimental graphical artworks. These artworks all capture the different tones and textures of the materials.
The fundament of the exhibition is Anne Marie Ploug's two main artworks, which both are 9 x 3 meters. Both artworks will be placed on each side towards a corner. One of the artworks is a combined paperwork, with a black/white drawing made out of charcoal and pencil. The second artwork is made up of copper plates with cold-needle etchings.
The exhibition is supported by Insero Horsens and Familien Hede Nielsens Fond. 
Photo: Horsens Art Museum