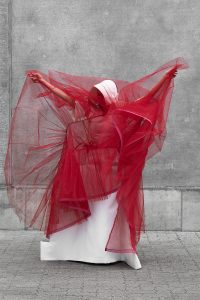 Lilibeth Cuenca Rasmussen. Herfra hvor vi står
September 21 2019 – January 19 2020
In the exhibition Herfra hvor vi står  the artist Lilibeth Cuenca Rasmussen debates and raises questions about national identity. The exhibition presents both earlier and newly made artworks, this including video works, photographs, sculptures, installations and performance, which all in their own way emphasize national identity as a topic.
Lilibeth Cuenca Rasmussen (b. 1970) was born in Manila, Philippines. She has a Filipino mother and a Danish father. They all moved to Stevns, in Denmark, when Lilibeth Cuenca Rasmussen was eight years old. This has given her a cross-cultural upbringing, where she early on experienced what it is like to be of a different ethnical background.
After educating from The Royal Danish Academy of Fine Arts in 2002, she has worked with topics such as identity, ethnicity, culture, community and sex. Her artworks often have an ironic and humorous approach to these topics.
The exhibition is part of the exhibition series "Herfra hvor vi står – 7 udstillinger om national identitet", where the seven museums Randers Art Museum, The Skovgaard Museum, Skive Museum, Glasmuseet Ebeltoft, Holstebro Art Museum, The Museum for Religious Art in Lemvig and Horsens Art Museum, examines what national identity means for us and how we relate to this in 2019.
The exhibition at Horsens Art Museum is supported by: Familien Hede Nielsens Fond, Beckett Fonden, Statens Kunstfond, Augustinus Fonden, Insero Horsens, Grosserer L. F. Foghts Fond and Dan Sukker.
The exhibition series are supported by: Genforeningspuljen 2020, Legacy Aarhus 2017, Region Midt, Statens Kunstfond and Det Obelske Familiefond. 
Photo credit: Frida Gregersen og Jacob Friis-Holm Nielsen
Costume: Mich Dulce