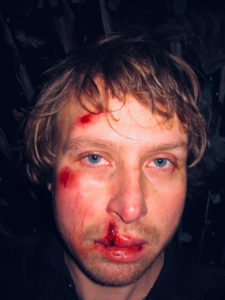 Experience the art project and exhibition "Kærlig Hilsen Hadet" at Horsens Art Museum.
The exhibition consists of different medias and genres, for instance written words, photo and sound.
On the 24th and 25th of November 2020, the Danish artist and author Tomas Lagermand Lundme visited Horsens Art Museum with the project "Kærlig Hilsen Hadet". Here the artist held a workshop with students from Sct. Ibsskole and Horsens Statsskole. Tomas Lagermand Lundme told the fatal story of when he was assaulted in the streets of Copenhagen, 11 years ago.
While telling stories from his own life, the students were writing down stories from their own personal life concerning love and hate. In that way, the artist created a safe-space where the students could feel free and safe to share their own stories. This resulted in letters that are now exhibited in the exhibition "Kærlig Hilsen Hadet", a long with a photo of Tomas Lagermand Lundme from the night of the assault, two neon works and an audio file where the artist reads a letter out loud.