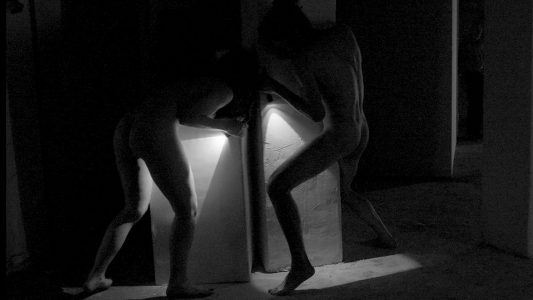 March 9 2019 – June 11 2019
The exhibition Involved presents a darkened and sculptural video installation made by the Danish artist Katja Bjørn in 2017. The installation consists of six high, sloping planks, where a video monitor is projecting a film on each of the six planks. The video shows a group of naked people in the age of 24 – 75 years. In a black/white nuance, the people are discouragingly moving heavy sculptural objects around on the floor while a flashlight capture and highlight their movements. Involved emphasizes the beauty and value of involving, not only in a bodily context, but also in a more symbolic and philosophical sense of living.
Through the last decade the artist Katja Bjørn has made video art and virtual images where the life of human existence is used as a motive and as a topic. Here the artist explores and expands our understanding of the human body, nature and culture.
Katja Bjørn (b. 1967) lives and works in Aarhus. She is a self-taught artist and is educated as Cand. mag in Religion – and Art History from Aarhus University in 1999. She is represented by Randers Art Museum, Horsens Art Museum, The Women's Museum, The Danish Arts Foundation and Aarhus Municipality.