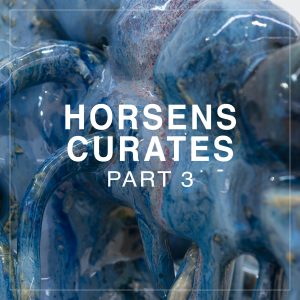 Until Sunday, January 8th, 2023
Opens on Saturday 5 November at 13.00 – 16.00 with opening speech by Mayor Peter Sørensen. There will be drinks and snacks in the museum's Café Ella.
Free entrance to Horsens Art Museum during all opening hours on 5 November, at 11.00 – 16.00.
Horsens Curators part 1-3 has the main purpose of getting a large number of locals from Horsens to talk about the Horsens Art Museum's large collection of experimental contemporary art. Parts 1 and 2 can already be experienced in the museum's exhibition halls, while part 3 opens on 5 November 2022.
In connection with the exhibition project, museum director Claus Hagedorn-Olsen says:
"Horsen's Curators was created on the basis of a desire to open the museum more towards our core audience – the Horsensians.
When we open Horsens Kuraterer 3, in three exhibitions we have entrusted the collections to a wide range of Horsensians.
I am proud of the result, which testifies to the special Horsen DNA. Courage and curiosity In this case, in relation to the fact that visual art is so much more than entertainment, but precisely attitude.
We have previously made the museum's collections available to non-professionals in an exhibition context – and with the experience we have now gained, it will not be the last time."
Participants in Horsens Curators 3 are:
Peter Sørensen – Mayor, Andreas Boesen – chairman of culture, deputy mayor, Lisbeth Holsteen Jessen – Director of Regionhospitalet Horsens, Alan Nissen – former CEO Nissens A/S, Helle Rosenberg – Tourist Manager, Lene Vestergaard – Editor-in-Chief Horsens Folkeblad, Erling Walter – former City manager
In the first two parts, six and eight people have participated respectively.
Horsens Kuraterer parts 1-3 is generously supported by Ny Carlsbergfondet and each of the 3 parts is followed by a small catalog with texts from the contributors, as well as images of the selected works.