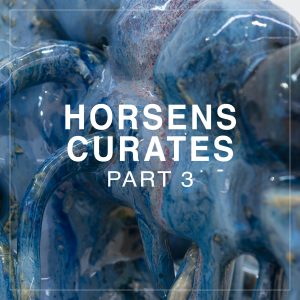 From Saturday, November 5 through Sunday, January 8, 2023
Do you have a favorite artwork in Horsens Art Museum's collection, or have you perhaps dreamed of helping to curate an exhibition, then you now have the opportunity as we open up for applications for the third part of Horsens Curates!
Horsens Curates is an exhibition concept in three parts, the first of which already opened in June. In part 1, it is the museum's employees who are not the curatorial staff who have been given a free framework too curate an exhibition with works from the museum's collection.
In part 3, people from Horsens will have the opportunity to also select their favorite work for a new exhibition, which will open in November 2022.
To be able to participate in Horsens Curates, it is a requirement that you must live in Horsens and want to come up to the museum and participate in the curation of the exhibition. 
If you would like to participate in Horsens Curates part 3, you must apply by writing an email to curator Sofie Skau Jepsen before 2 September 2022. Remember to state your name, age, email address and telephone number.
We then select a broad team of Horsensians who will participate in Horsens Kuraterer part 3, and subsequently send material with information about the museum's collection for inspiration.
Read more about Horsens Kuraterer part 1 here.