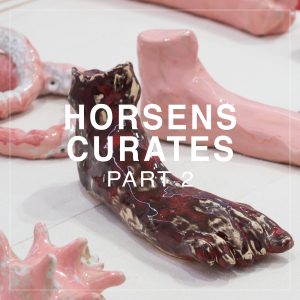 Until December 30, 2022
With Horsens Curators, the museum invites a number of people from Horsens to curate a total of three exhibitions, all based on the museum's large collection of experimental contemporary art.
In part 2, a group of eight Horsensians have been given the opportunity to select precisely the works that they think are the most interesting works for them, from Horsens Art Museum's collection. The eight participants in the second part of Horsens Curators are: Maryam Zahid, Lisa Beck, Malene Koops Grønborg, Jan Bo Poulsen, Bodil Johanne Jørgensen, Betina Sparvath, Mark Ludvig Henriksen and Kjeld Arp.
Horsens curators was created on the basis that Horsens Art Museum dreams of getting more Horsensians to talk about what kind of museum Horsens Art Museum is and what collecting and curating experimental contemporary art really means for a museum?
Primary school student Maryam Zahid, who has chosen the work Leaving Home II. – Cambodia by Jiri Georg Dokoupil from 1993-94, states:
"I chose the work "Leaving Home II. – Cambodia" because I think it reminds me a bit of something my parents and some acquaintances have experienced, and I also know how hard it can be to leave your home country. The way the piece is made is quite interesting, because it is made of soot. It is not something you see every day and therefore I think it is quite special."
Deputy emergency manager from the Southeast Jutland Fire Service Jan Bo Poulsen has chosen Future Friture – Turritopsis Dohrnii by Silas Inoue from 2020. He comments on the choice of work:
"The fascinating thing about this work is that when I see it I am left amazed at how it was possible to create this work. A super exciting combination of materials which in a way makes it look light and floating, at the same time with the fact that it can somehow also seem scary as a symbol of bacteria we deal with in everyday life or a giant fireman we can encounter in the water where we bathe."
A big thank you to Maryam Zahid, Lisa Beck, Malene Koops Grønborg, Jan Bo Poulsen, Bodil Johanne Jørgensen, Betina Sparvath, Mark Ludvig Henriksen and Kjeld Arp for your participation. Horsens Kuraterer is supported by the New Carlsberg Foundation
Image: Detail of Resurrection, Klara Lilja. 2021. Horsens Art Museum