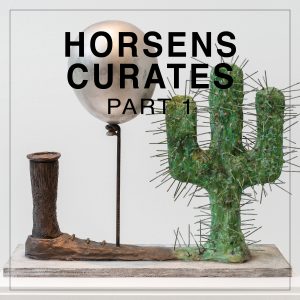 Horsens Curates part 1
Until December 30. 2022
Over the next six months, the Horsens Art Museum invites you to the exhibition concept Horsens Curates, which will be distributed  in three parts, the first of which can now be experienced. With Horsens Curates, the museum invites a number of Horsensians to curate three exhibitions, all based on the museum's large collection of experimental contemporary art.
Horsens Curates is created on the basis that Horsens Art Museum dreams of getting more Horsensians talking about what Horsens Art Museum is and what collecting and curating experimental contemporary art really means for a museum?
Part 1 has been curated by the museum's staff group; the part of the staff group that is not the curatorial staff. Here, the museum's craftsman Asbjørn Thernøe, cleaning assistant Jette Ide Nielsen, counter manager Annemette Lundgaard Pedersen and museum secretary Anne Veng Dahl have jointly selected and curated (ie decided on the hanging) the works they want to present to the museum's audience.
Asbjørn Thernøe says: "Horsens Art Museum's collection testifies that ideals and dreams change over time – from the very early part of the museum's collection, ie the golden age and to the works we collect here in 2022″.
Part 1 will be shown until October 23, 2022. Here, you can experience works by artists such as Peter Holst Henckel, J. Th. Lundbye, J. F. Willumsen, Cathrine Raben Davidsen, Nina Saunders, Katja Bjørn, Elmgreen & Dragset, Lars Nørgaard, Bjørn Nørgaard and Inge Ellegård amongst others. 
Part 2 and part 3 of Horsens Kuraterer are expected to open during the second half of 2022.
The project is supported by the New Carlsberg Foundation.