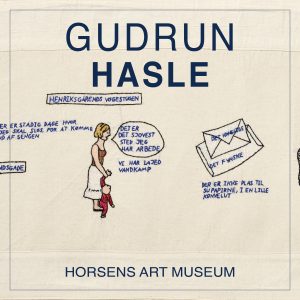 Gudrun Hasle – Horsens Art Museums Collection
August 27, 2022 – January 8, 2023
Gudrun Hasle graduated from the Funen Art Academy 2002-2008 and the Royal Danish Academy of Fine Arts in 2007-2008. Gudrun Hasle works extremely autobiographically in her artistic work, working with media such as video, photography and embroidery. A central issue in Gudrun Hasle's works is the position of the outcast or outsider in society, where she thematizes being different and being outside society's norms and conventions, which some finds difficult to live up too.
Gudrun Hasle is one of the young experimental artists who in these years is standing stronger and stronger on the Danish art scene and with her works she gives the viewer an honest picture of some of the societal taboos that we usually avoid dealing with.
The exhibition will showcase the museum's collection of Gudrun Hasle's artworks, which have not been shown together before.
Photo: Gudrun Hasle, My Life Story, 2004. Horsens Art Museum