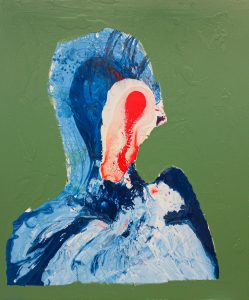 April 23 th  – august 21 th
Horsens Art Museum has followed visual artist Frederik Næblerød for a number of years and seen the great artistic development that has taken place over the years. The museum has just acquired the sculpture Creature (Totem) from 2021, by the artist, for the museum's large collection of experimental contemporary art.
The upcoming solo-presentation by Frederik Næblerød will be the first (solo) museum exhibition for the artist and contains a number of large paintings that have not been exhibited before, as well as some sculptures.
For Frederik Næblerød, art is constantly evolving, and at Horsens Art Museum we want to capture just a moment of the enormous artistic pulse with an exhibition at the museum. Horsens Art Museum has a long tradition of exhibiting and collecting artists who talk together in different ways within the experimental art field and Frederik Næblerød's way of approaching art is in line with large parts of the museum's collection of experimental contemporary art.
The exhibition is supported by Statens Kunstfond.
For further information about the exhibition, please contact curator Julie Horne Møller at jhmo@horsens.dk