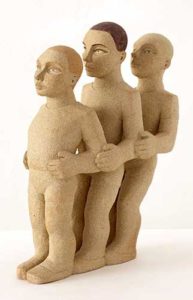 Døren åbner indad by Camilla Thorup
October 7 2017 – January 14 2018
The exhibition Døren Åbner Indad presents paintings, drawings and ceramic sculptures made by the Danish artist Camilla Thorup. The artworks consist mainly of people and houses that all communicate different stories. The people are made out of simple forms, and are neutral and anonymous in their look, often gathered together so they interact with each other. At the same time the motifs express an absurdity where the familiar and unfamiliar, the personal and impersonal, presence and absence, are mixed together.
Horsens Art Museum acquired the first artwork by Camilla Thorup in 2009 and has since expanded their collection of the artist's works.
Camilla Thorup (b. 1976) lives and works in Copenhagen. She studied art at Funen Art Academy in 2000-2002 and was educated from The Royal Danish Academy of Fine Arts in 2008.
The exhibition is generously supported by Statens Kunstfond and Grosserer L. F Foghts Fond.