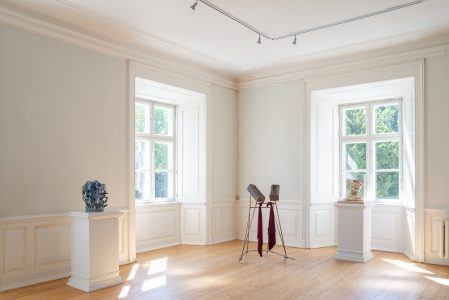 10-7-17 – Artwork from the collection of Horsens Artmuseum at Augustiana
Artwork from the collection of Horsens Artmuseum 2011-2021
13.08.22 – 20.11.22
For Augustiana's stately space, Claus Hagedorn Olsen has put together a selection of the museum's new acquisitions – a selection which at once shows the range of contemporary art, but also points to connections across the board.
It has resulted in a total of 17 works created by 7 artists over a 10-year period, hence the title of the exhibition.
Included in the exhibition are works by Nanna Abell, Frederik Næblerød, Emil Westmann Hertz, Christine Overvad Hansen, Lea Gulditte Hestelund, Lilibeth Cuenca Rasmussen and Martin Erik Andersen.
Facts about the exhibition:
Period:
13.08.22 – 20.11.22

Locality:
Augustiana
Kunstpark & Art Hall
Palævej 10-14
6440 Augustenborg
Artists:
Nanna Abell, Frederik Næblerød, Emil Westmann Hertz, Christine Overvad Hansen, Lea Gulditte Hestelund, Lilibeth Cuenca Rasmussen, Martin Erik Andersen
Curator:
Claus Hagedorn Olsen
Entrence fee:
Free
Opening hours:
Art Hall:
Tuesday – Sunday: kl. 12.00-16.00
Mondays: closed
Photo: 
Nanna Abell: Bloom, 2018. Horsens Kunstmuseum