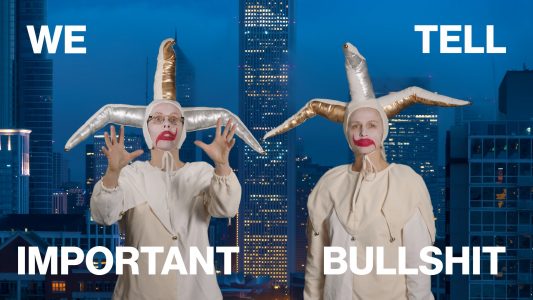 We Come in Peace by Hesselholdt & Mejlvang
For the exhibition at Horsens Art Museum, Hesselholdt & Mejlvang continue to work with their narrative from 2021 with the two fools.  The duo presented them for the first time at the Chart Art Fair and on an LED truck in Chicago in September 2021.
'The Two Fools' is an echo of the medieval court jester who was employed by the king to entertain at court or lived as a traveling artist performing in markets. The fool was the only one at court who had the right to tell the truth and be open-mouthed. It was a form of the people's voice that could convey what the subjects thought of the court, either directly or through various hints.
The fool is related to the tragic clown. The fool is a truth-telling figure that artists can identify with. The historical fool was a colorful but lonely person; in Hesselholdt & Mejlvang's version they come as a white couple.
The exhibition project is generously supported by the Statens Kunstfond, Insero Horsens and Familien Hede Nielsens Fond.
Photo: Joakim Züger / Barsk Projects